The Problem with Google Places
Is it just me, or does Google not want me to use my Google place page? Many small business owners get extremely discouraged with Google places' complexity and lack of support, so it's not just you. It seems that Google has made it deliberately hard to fix errors and clear flags from your Google places account. For example, take a look at this fantastic (i.e., satiric) flowchart by Mike Blumenthal describing the method for solving a "terms not allowed" error.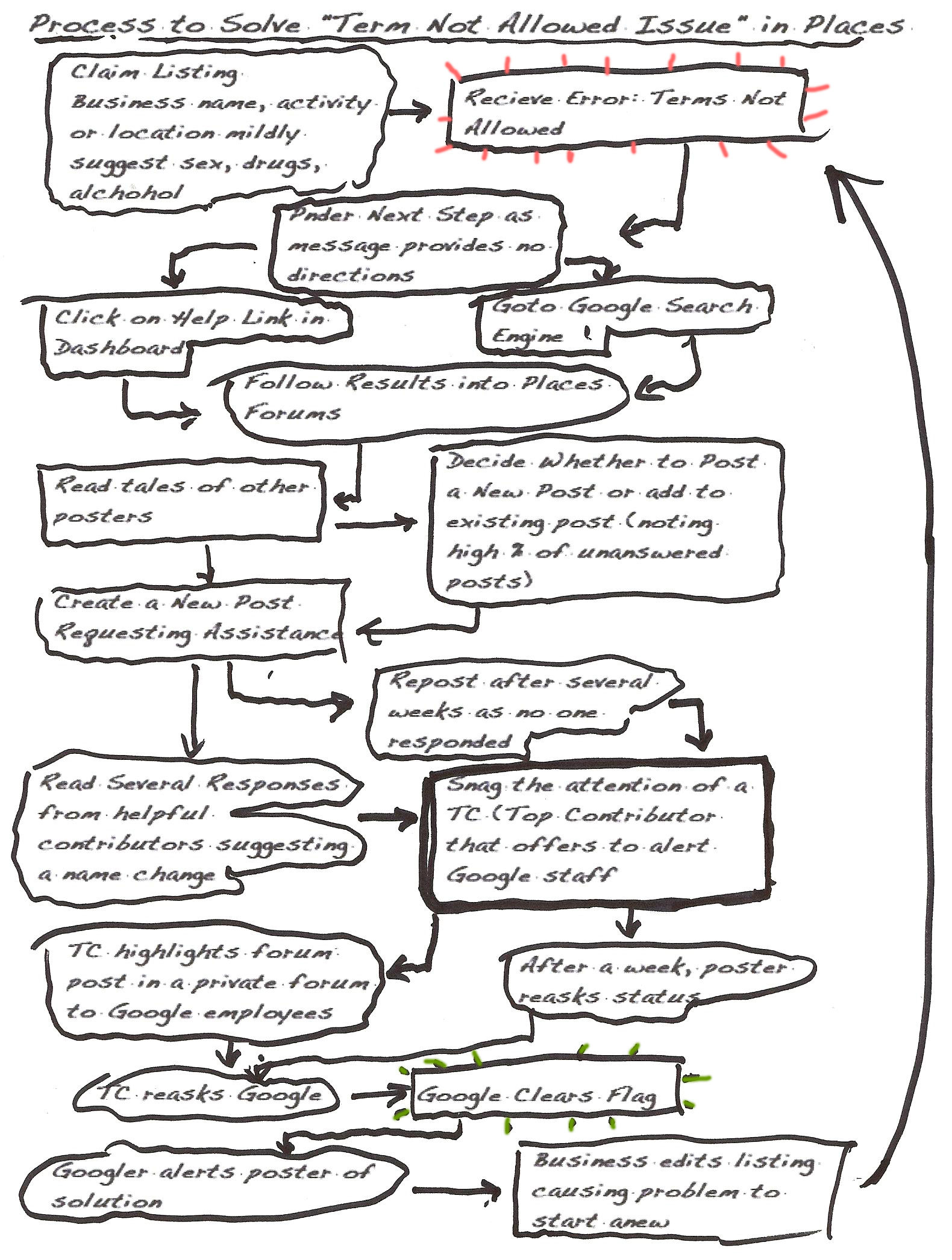 Of course, he points out, that all this could be solved simply by creating a quick and easy way for business owners to contact Google and resolve problems directly through the existing interface. Is that so hard? Apparently so.
The sad truth is that small businesses need Google places. Showing up in local search results is essential for small businesses to get noticed and drive business. Large businesses have the budget and capability to hire in-house experts to handle this sort of thing—people who know what hReview markup, Hotpot, Boost, and rich snippets are. But for many small, local businesses, they have to figure this whole process out through trial and error on a DIY budget.
The reasons that Google doesn't make Places easier to use are unclear. It seems that in any logical world, having as many verified businesses as possible show up in a local business search would only help Google attain more credibility as THE engine to use for local searching. So ease of use should be at the top of their list. But this isn't a perfect world.
If you are a small business seeking to understand these terms and processes, where can you turn for help? As Blumenthal points out, discussion boards are pretty hard to navigate and use. But you can always turn to SEO experts, like ourselves, who can help you navigate the minefield of Google Places.
No one doubts the power that appearing as a verified business in local search results can have on your business. Having someone on your side who can help could save you a lot of headaches and start boosting your online visibility much faster.